Keeping Your IT Healthy and Your Business Productive with SMB Managed Services
Focus on delivering quality and trusted products and services to your customers while SMB Support manages your IT infrastructure. Constant cyber-attacks demand a trained technologist that knows their way around your network to protect it and keep it running smoothly. We will help you to accurately assess your data needs to help you decide on the best SMB Managed Services plan for your company.
"Constant cyber-attacks demand a trained technologist that knows their way around your network to protect it and keep it running smoothly"
SMB Basic Managed Services
We offer the SMB Basic Remote Monitoring and Management plan with a low monthly fee, plus time and costs for projects.
          Our Basic Managed Services plans are designed to give clients more control over their IT risks and budgets. We understand that every business has unique needs, challenges, and budgets, and that's why we provide a tailored approach to our services.
          Our Basic Managed Services plans start with a thorough SMB audit and risk assessment to identify potential network risks, both immediate and latent. This assessment allows us to create a prioritized list of risks that need to be addressed, along with a timeline and budget that is suitable for your business.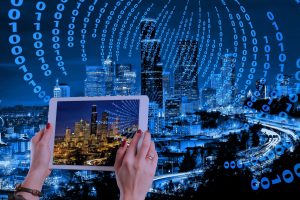 Informed clients are empowered to take an active role in managing the prioritized risks and the IT budget. We work with you to create a plan that aligns with your business goals, and we provide ongoing support and guidance to ensure that your IT infrastructure is secure and optimized.
          With our Basic Managed Services plans, we offer a minimal fixed cost for Remote Monitoring and Management (RMM) that covers essential IT services, such as software updates, antivirus protection, and system backups. This ensures that your systems are always up-to-date and secure, without breaking the bank.
          In addition, we offer line item variable costs for time and materials, which means that you only pay for the services you use. This flexible pricing model allows you to keep cash flowing for other operational priorities while addressing critical IT risks at the same time.
          At every step of the way, we keep our clients informed and involved in the decision-making process. We believe that transparency and communication are key to building a successful partnership, and we strive to provide our clients with the best possible service and support.
SMB Deluxe Managed Services
SMB Deluxe Managed Services is an IT solution that is designed to cater to the needs of more established businesses or those who are looking to expand globally. This package is tailored to provide a comprehensive approach to managing your IT infrastructure, with a focus on enhancing productivity, ensuring security, and supporting your company's growth.This package includes: 
        To start, this package includes a thorough network evaluation to identify areas that require improvement, optimization, and potential vulnerabilities. The assessment report will provide an overview of your current network infrastructure and highlight areas that need improvement. This allows us to provide recommendations for necessary upgrades, which align with your business's projected needs and budget.
        Our 24/7 IT support ensures that you can always get help when you need it, and our backup and malicious activity monitoring keep your business data and systems safe from threats. Our team of experts is always on the lookout for potential threats to your systems and responds promptly to mitigate risks before they become major issues.
        Additionally, our dedicated account manager will work closely with you to understand your business needs and goals. This person will be your go-to point of contact and will ensure that our services are tailored to meet your specific requirements.
          Our network security policies are designed to safeguard your business information from unauthorized access, data breaches, and other cyber-attacks. We understand the importance of keeping your data secure, and our team works tirelessly to implement security measures that meet industry standards.
          We also provide employee training to help your staff understand the importance of IT security and how they can contribute to keeping your business information secure. Our training sessions are designed to be informative and engaging, and they cover topics such as password security, phishing attacks, and online safety.
With SMB Deluxe Managed Services, you can keep your business productive while we handle your IT. We provide a comprehensive IT solution that ensures your systems are up-to-date, secure, and optimized for your business's growth.